I think it's pretty much a slam dunk to say the biggest news as relating to the Bears coming from day 3 and 4 at the combine is all this Jarvis Landry to the Bears news. First it was rumored the Bears were among a handful of teams interested in Landry which eventually evolved into a full-fledged report by Bears beat reported Moon Mullin quoting sources as saying the Bears and Dolphins have discussed a trade where the Bears would swap first-round picks Bears 8th for the Dolphins 11th and their 3rd (73rd overall), and Landry for Bears Running Back Jordan Howard. Talk about your blockbusters.
It would certainly sine a bright light on the Bears program and give them a bunch of publicity and maybe even some national love which could be of benefit to the program as it will show potential free agents the Bears are not looking to continue a rebuild but to accelerate it. It also wouldn't hurt the business side of it with clicks on web pages which exposes much-needed advertising dollars and creates a buzz and interest from their fan base both positive and negative. Either would still be better than the sound of crickets in the air.
From my viewpoint, it wouldn't be a bad trade-off. The Bears can replace Howard with many choices from this draft and may even be a slight upgrade. I have said I am not the biggest Jarvis Landry fan and feel he is as over-rated as it gets, but he is a very productive slot receiver so there is value there. It all depends on the financial and offensive usage commitment in my eyes. If he isn't overpaid and he isn't featured as the main pass-catching target than I have no issue with it. Bears only drop 3 spots and pick up a valuable 3rd round pick a round they currently have no picks in due to last seasons trade with the 49ers to move a slot to get Trubisky.
There are also reports saying the deal is complete bullshit including from ex-Bears Scouting Director Greg Gabriel who specifically said it's complete bullshit.
I was told of that Miami – Bears potential trade yesterday. Took it as made up bullshit by the original source who is out of Miami. As @RapSheet said I doubt there is anything to it
David GreenBerg @ChiSportsUpdate reports a source of Pro Football Talk's also said no way on this deal.
A league source tells @ProFootballTalk that there's "no way" the Jarvis Landry-Jordan Howard trade is happening.
If that isn't enough for you the originator of the story NL Networks Ian Rapoport had these two tweets.
Ian Rapoport Retweeted Ian Rapoport
Hear this wasn't even discussed.
 Ian Rapoport added,
Ian Rapoport
Verified account
@RapSheet
***UPDATE*** It was just reported that Landry will sign his tag. Speculation is this  should help facilitate a trade.
#Dolphins WR Jarvis Landry is accepting the franchise tag and signing it imminently, source said. Based on talks with several interested teams, he's being viewed as a No. 1. WR. Signing locks him in with DeAndre Hopkins & Antonio Brown above $16M. Let the trade talks heat up

This was my thought yesterday. It sounded to me like something the Dolphins or Landry's agent might have put out as I doubt the Bears side would do so as it would not be advantageous for them to do so. So or those out there who want my gut feeling on this it's completely made up bullshit and you should go back to researching Free agent and draft pick possibilities to fill the Wide receiver role for the Bears.
As for the prospect side of the combine, there are a lot of interesting results in from the Offensive prospects. For one the Quarterbacks, all passed the hand size measurements as having the minimum required hand size by NFL standards. As for the drill, most looked good. Especially the top prospects.
Josh Allen wowed people with his tremendous arm and his footwork and accuracy. After Allen unloaded a 70 plus yard bomb it was immediately followed by Ooh's and Aah's throughout the stadium filled by Scouts, NFL executives, Coaches and the players participating in the drills. Josh Rosen also looked impressive and all the top guys ran and jumped well too. None of which matters for the Bears side of things as none will be picked by the Bears but don't discount them taking one on day 3. Day 3 possibilities like Luke Falk and Mike White as well as Senior Bowl sensation Kyle Lauletta. Falk looked the best of all of them in his drills.
If weapons are what your delight is then there were a lot of them that made an impression at the combine in their workouts and drills. D.J. Chark is a kid that brings a lot of tools to the table. Size: 6'3″ 200, Speed: 4.34 40, explosive athleticism: 40 yard vertical 129″ Broad Jump, and Strength: 16 reps.
D.J. Chark didn't post agi, but he didn't have much left to prove. Posted a top tier#RAS for a WR at the Combine, top 15 all time.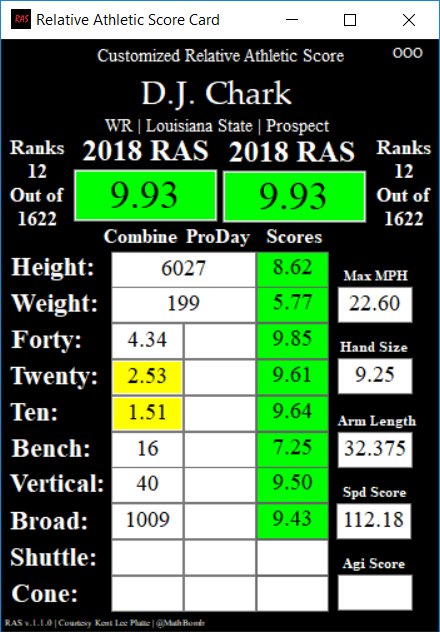 Another prospect that would make an excellent value pick perhaps with the 37th overall pick if he falls that far is Maryland's D.J. Moore. If the Bears don't want to go with the overall consensus #1 pick Calvin Ridley with their 8th overall pick Moore would be a pretty damned good consolation prize and may even in time prove to be the better prospect hit. Moore has good size (6'0″ 210) and can most definitely play on the outside as well as run plenty reps out of the slot. He's fast: 4.42 40, 15 reps in the bench press show strength, and he has plenty of explosion with a 39.5″ vertical and an insanely impressive 132″ Broad Jump.
D.J. Moore is putting up top tier athletic numbers so far at the combine. Comfortably within elite #RAS while we await agi numbers.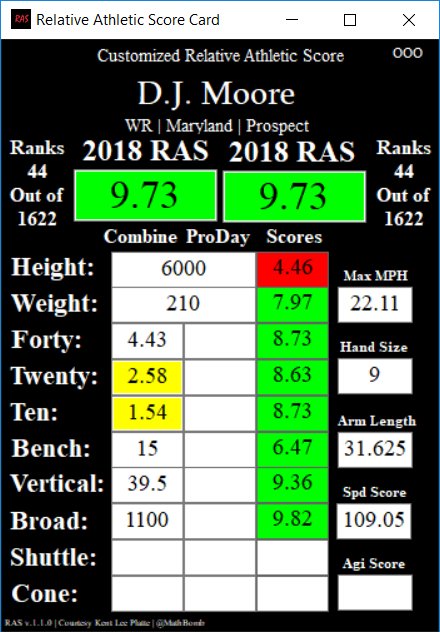 Speaking of Ridley he accounted for himself very well too. Showed plenty of speed with a 4.43 40, quickness with a 6.88 time in the 3 cone and an impressive 20 yd shuttle time od 4.41 seconds. He did kind of disappoint with a 31 " Vertical and only 110″ in the broad jump. However, he never came off as a go up and get it 50/50 ball guy anyway so as a route runner and someone who is a YAC guy he scored well in what he needed to. He also was impressive in the drills he participated in. However, he scored poorly with his Relative Athletic Score as he lost a lot of points with weight and Vertical.
So depending on his official splits and luck of math, Calvin Ridley might end up either just above or just below average for #RAS. The last WR taken in the 1st round with a sub 5.00 RAS was Laquon Treadwell. Kelvin Benjamin, Nuk Hopkins prior to that.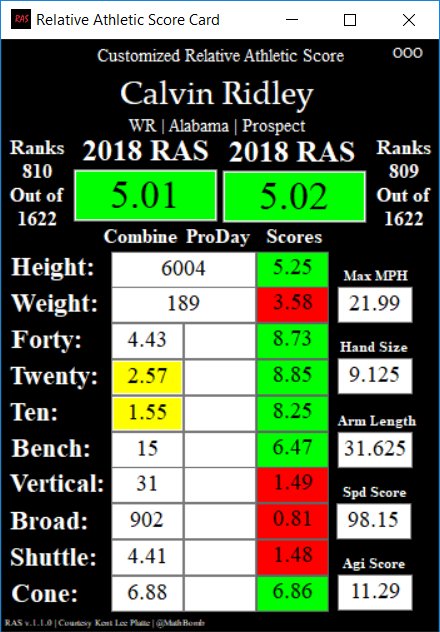 Clemson's Deon Cain is another size/speed prospect that offers rote diversity who had himself an impressive workout. The 6′ 2″ 202 Wideout ran a lazing 4.43 40 a blazing 4.37 20 yd shuttle and an impressive 6.71 3 cone drill.
Perhaps the most intriguing of all the prospects because of his great size (6'5″ 214) Speed: 4.48 40, and strength 20 reps on the bench press had a workout that would be hard to argue against that point. That is, of course, Notre Dame's Equanimeous St. Brown who I mocked to the Bears with their 4th round pick which most likely has a snow ball's chance in hell of happening now. He is a 2nd rounder looks like and will not fall past day 2.
Another monster-sized receiver Courtland Sutton had himself an impressive workout too. ran a 4.54, benched 18 reps, jumped 35.5″ and 124″ in the Broad Jump and I'll let rotoworld's  Josh Norris tell you the rest in this tweet.
SMU WR Courtland Sutton posted a top three 3-cone time in the 2018 WR class (6.57), a top four short shuttle time (4.11) and a top two 60 yard shuttle (11.06). At 6'3/218
Courtland Sutton posted an elite #RAS at the Combine. A great day when some questioned if he were really as athletic as people thought because of separation concerns.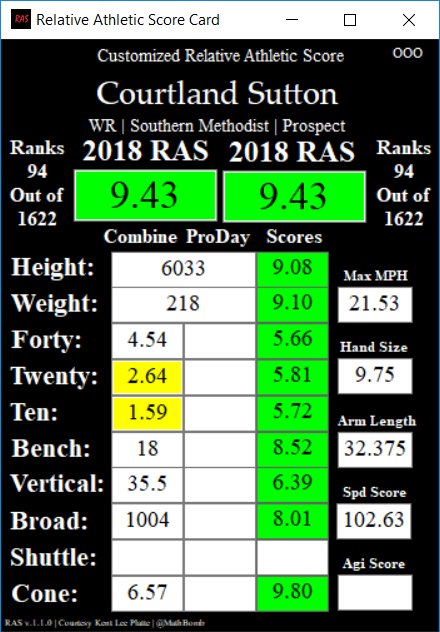 Michael Gallup also had an impressive workout. Along with an impressive workout he had a good Relative Athletic Score. He ran a 4.51 40 and jumped a 36″ vertical and a 122″ broad jump along with a good 3-cone and 20/60 yard shuttle times too along with a nice field drill showing. He brings good size (6'1″ 205) and toughness to the table and can run a variety of routes from anywhere on the field.
Michael Gallup didn't end up with an elite #RAS, but he landed a perfectly respectable score. Especially considering one of his worst grades was the bench.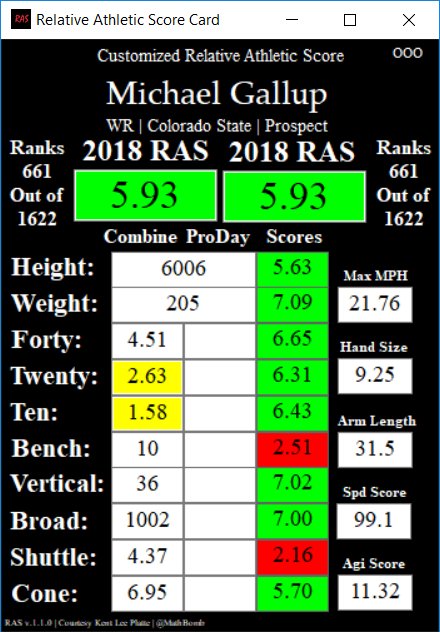 J'Won Moore out of Missouri had himself a day too. Big (6'3″ 207), Strong (21 reps), quick (6.56 3-cone/4.04 20-yd. Shuttle), fast (4.60 40), explosive (38″ vert./120 broad. Yet another one of these size/speed Split end types for the Bears to consider.
One day 3 prospect who has the physical profile to be a number one is Texas Tech's, Dylan Cantrell. had an excellent SPARQ score in the 97th percentile which tied for the highest mark among Receivers. ran a 4.59 40 which is impressive considering he's 6'3″ and nearly 230. He also jumped a 130″ broad and a 38.5 vertical along with an insanely good 3-cone of 6.56
Dylan Cantrell, who I think few had pegged as an elite athlete, had one of the highest #RAS for a receiver today.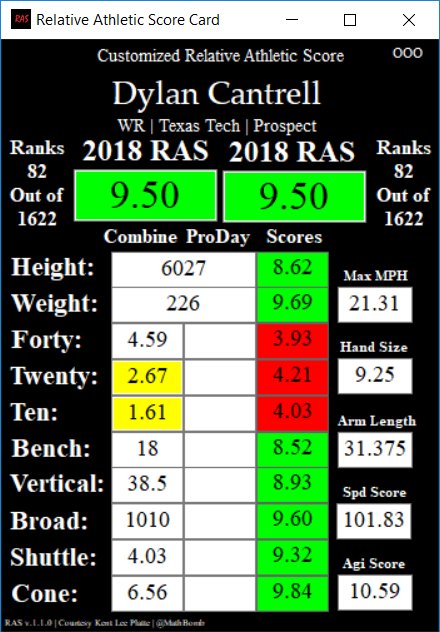 There is a couple value pick types that had great workouts but may fall out of the draft completely and could be had for a 7th round pick should the Bears choose to draft them and avoid a bidding war for their services as Priority Free Agents.
Florida's Antonio Callaway had a great combine as everyone expected him to have. His ability was never in question but his character. He was kicked off the team and did not play his Junior season due to a last straw infraction involving Credit Card fraud and has a slew of off-field incidents including a sexual assault accusation. So he has not played live football in about a year. He profiles as a Slot/Flanker type with speed to burn. with a 4.41 40.
Antonio Callaway heading towards an elite #RAS so far, but unless he crushes the agi drills I question why NFL Network has been pushing him as a day 2 pick so much based on his combine. He wasn't considered a day 2 pick unanimously before the character stuff.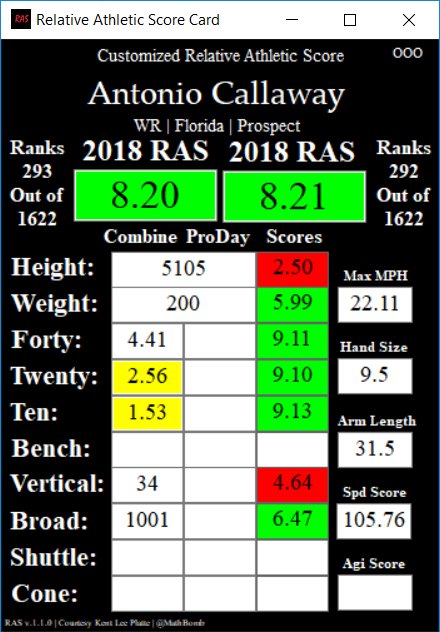 Marquez Valdez-Scantling is an intriguing physical specimen. He is (6'4″206) with huge hands (10 1/4) and runs a blazing 4.37 40. put up 15 reps and broad jumped 124″ but had a mere 30.5 Vertical. He can possibly be a nice 7th round developmental player.
Just a bit more, but if you're already above 8 or 9, it's splitting hairs.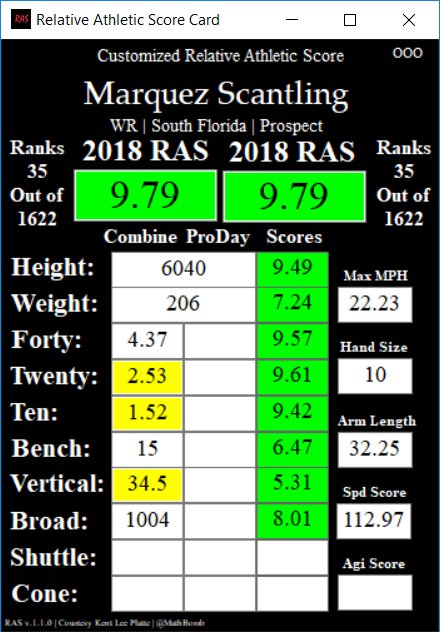 Here are some other notable Wide Receiver performances:
Christian Kirk didn't fall below 5.00 #RAS, but he posted up poor agility numbers, surprisingly.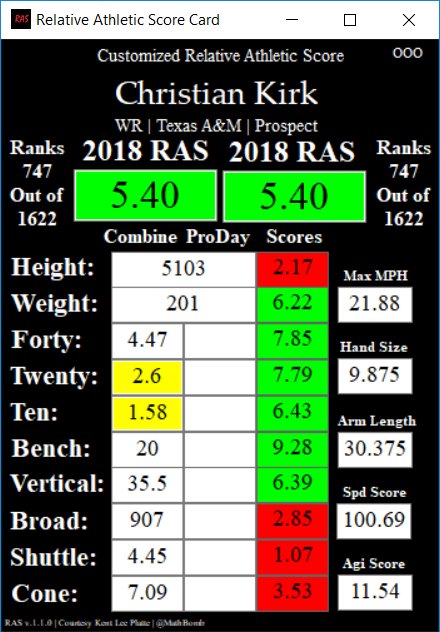 Only just missed that 42″ vert.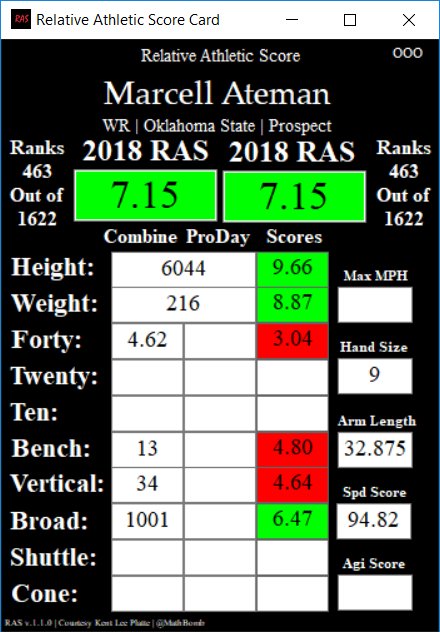 Auden Tate wasn't expected to measure well for speed, but few probably expected him to also measure that poorly for explosion metrics.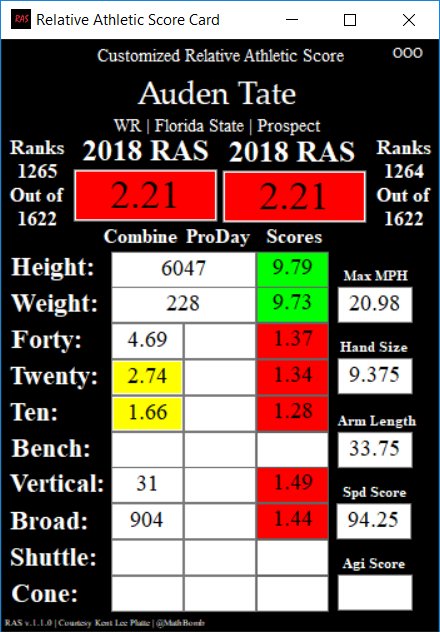 Allen Lazard has been one of the biggest surprises of the Combine so far. On his way to an elite #RAS when most thought he'd struggle to run a 40 under 4.7.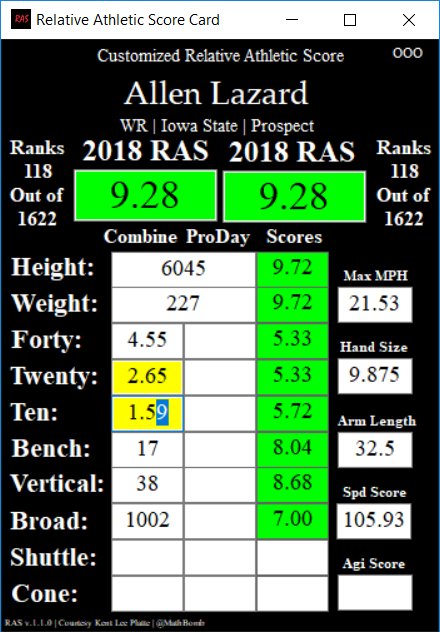 Weapons come in many forms not just of the Wide Receiver variety. Although not nearly as deep and athletic as last season there are some interesting Tight Ends at the top.  The Most athletic was Mike Gesiski. As a matter of fact, he would have been by far the most athletic last year if he had participated in the 2017 Combine. He is a freak. Only two Tight Ends tracked in the last twenty years had scored higher marks than Gesicki. If he somehow slid to them at the 37th overall pick he may be too hard to pass on. No matter what needs they may have at the time.
Holy cow Mike Gesicki (I'll do these as threads in future)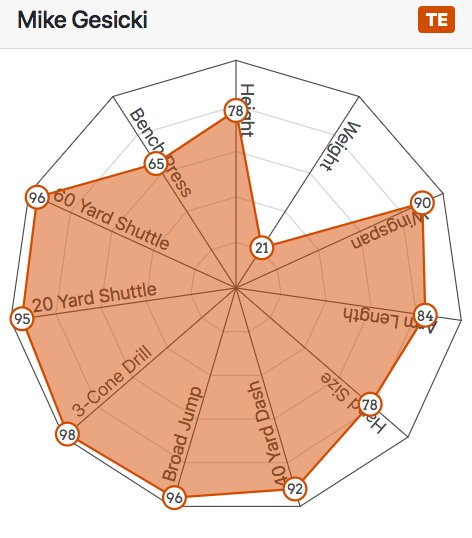 Mike Gesicki's 41-inch vertical is tied (with Jared Cook) for 4th best among Combine TEs since at least 2006. Vernon Davis, Virgil Green and Dorin Dickerson only names ahead.
Josh Norris Retweeted Josh Norris
Also, Mike Gesicki's 10'9″ broad jump is tied for 7th best for Combine TEs since at least 2006. Better jump than Vernon Davis.
On top of his 4.54 forty, Mike gesicki ran a 6.76 3-cone, a 20 yard shuttle of 4.1 seconds and a 60 yard shuttle of 11.33. That 3-cone times is tied for 3rd best among all Combine TEs since at least 2006. 20 yard shuttle tied for 6th best. 60 yard shuttle is 4th best.
So yeah, Mike Gesicki (with splits projected) posts the third highest #RAS of all time for a TE. 3rd best out of 678 tight ends since 1987. May move up or down a spot after I run the code completely, but wowza.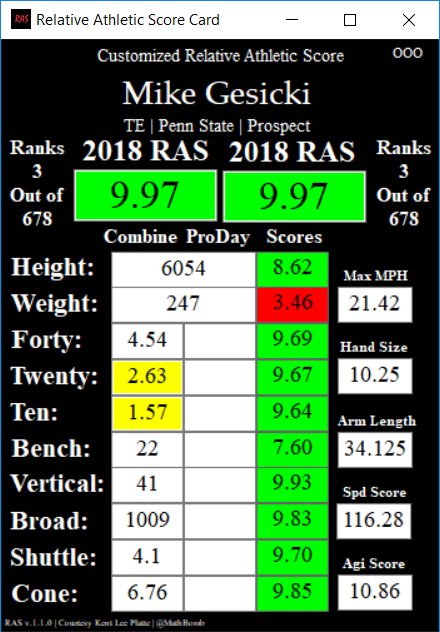 Another guy that may deserve a look is Tyler Conklin out of central Michigan. Most thought he'd be more of a blocking type but his Relative Athletic Score is going have scouts scurrying back to the tape to see what they missed and how he was used in the passing game. Here is the RAS minus the afility scores. After the agility scores came in he was in the high 7's.
Tyler Conklin wasn't expected to measure out elite, but he's doing better than expected so far at the Combine.
With vertical added, looks even better. Waiting on agi drills yet.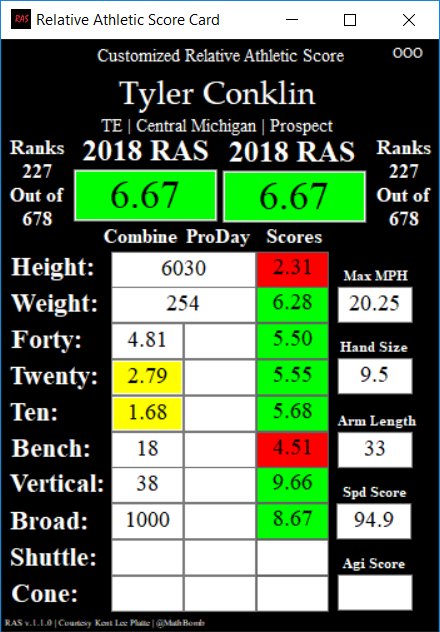 Ian Thomas out of Indiana did well scoring in the 8's too so he's yet another TE to be on the lookout for too. Came on late in his career there so he isn't a slam dunk day 2 pick, but could be a huge value pickup in the mid rounds given his high ceiling.
Bears need linemen too. A good indicator on what to expect in a lineman's performance at the next level would be to look at their 20 yard shuttle times. Those that scored well on them in the past have a very high hit rate. Here are the best of those marks.
Top 2018 OL 20-yd shuttle: James Daniels 4.40 Joe Noteboom 4.44 —— Kolton Miller 4.49 Brian O'Neill 4.50 Austin Corbett 4.50 Coleman Shelton 4.59 Quenton Nelson 4.62 Connor Williams 4.63
 If Running Backs are your thing this draft certainly has a lot of them. I could have spent an entire blog on them alone but as it is not relavent to the Bears needs I'll just close it out with a posting of some o the best marks by the best prospects in this class. By now we all know the names.
Bo Scarbrough's numbers in #NFLCombine 40-time: 4.52 seconds Vertical: 40 inches Broad: 10 feet, 9 inches Bench: 14 reps of 225 lbs He finished among the top 10 in all events for running backs.
| Top Prospect | School | Height | Weight | Arm | Hand | Bench | 40 Yard | Vertical | Broad |
| --- | --- | --- | --- | --- | --- | --- | --- | --- | --- |
| Barkley, Saquon | Penn St | 6-0 | 233 | 31 3/8 | 9 1/2 | 29 | 4.4 | 41″ | |
| Chubb, Nick | Georgia | 5-11 | 227 | 32 | 9 5/8 | 29 | 4.52 | 38.5″ | 10'8″ |
| Guice, Derrius | Louisiana St | 5-10 | 224 | 30 3/4 | 9 | 15 | 4.49 | 31.5″ | |
| Johnson, Kerryon | Auburn | 5-11 | 213 | 32 1/2 | 9 3/4 | 11 | | 40″ | 10'6″ |
| Jones, Ronald | USC | 5-11 | 205 | 31 | 8 3/4 | | | 36.5″ | |
| Michel, Sony | Georgia | 5-11 | 214 | 31 1/4 | 9 1/8 | 22 | 4.54 | | |
Running Back
School
Height
Weight
Arm
Hand
Bench
40 Yard
Vertical
Broad
Adams, Josh
Notre Dame
6-1
213
33 3/4
9 1/4
18
Ballage, Kalen
Arizona St
6-1
228
32 3/4
9 1/2
15
4.46
33.5″
10'2″
Bawden, Nick
San Diego St
6-2
245
30 1/2
9 1/4
Coleman, Lavon
Washington
5-11
223
30 1/2
9 1/4
23
4.65
33″
10'0″
Crawford, Justin
WeSt Virginia
5-11
202
32
9 1/8
11
4.64
33.5″
10'2″
Edmonds, Chase
Fordham
5-10
205
31 1/8
9
19
4.55
34″
10'2″
Ernsberger, Donnie
WeStern Michigan
6-3
255
31 5/8
9 3/4
15
4.78
31″
9'6″
Flowers, Dimitri
Oklahoma
6-2
248
30 3/4
9 1/4
17
4.83
30.5″
9'1″
Franklin, Jarvion
WeStern Michigan
5-11
225
31 1/4
9 1/4
18
4.63
30″
9'1″
Freeman, Royce
Oregon
5-11
229
32
9 1/2
17
4.54
34″
9'10"
Hicks, Kyle
Texas Christian
5-10
202
32 1/2
9 1/2
13
4.63
36.5″
10'2″
Hines, Nyheim
North Carolina St
5-9
198
30 3/4
8 7/8
4.38
35.5″
9'11"
Jackson, Justin
Northwestern
6-0
193
30 5/8
9 1/4
13
4.52
38.5″
10'2″
Kelly, John
Tennessee
5-9
216
31 3/8
9 3/8
15
35″
10'0″
Nall, Ryan
Oregon St
6-2
232
31 1/2
10
15
4.58
33″
10'2″
Penny, Rashaad
San Diego St
5-11
220
31 1/4
9 1/4
13
4.46
32.5″
10'0″
Pettway, Kamryn
Auburn
6-0
235
31 1/4
9 1/2
22
4.74
33.5″
9'8″
Richard, Demario
Arizona St
5-9
218
28 3/4
9 1/4
12
4.7
29.5″
9'7″
Scarbrough, Bo
Alabama
6-0
228
33 1/2
10
14
4.52
40″
10'9″
Thomas, Roc
Jacksonville St
5-10
198
31 5/8
9 1/4
16
4.56
35.5″
10'5″
Wadley, Akrum
Iowa
5-10
194
29 1/2
8 1/4
12
4.54
32″
Walton, Mark
Miami (FL)
5-10
202
30
9 1/4
18
4.6
31.5″
9'10"
Warren, Chris
Texas
6-2
250
32
10
25
4.69
33″
10'1″
Wilkins, Jordan
Mississippi
6-0
216
30 1/8
9 3/8
16
36″
9'9″
Williams, Darrel
Louisiana St
6-0
229
31
9 3/8
22
4.72
32″
9'1″
Wilson, Jeffrey
North Texas
5-11
210
31 1/2
9 1/4
15
Next up: Defensive Linemen and Linebackers