Winning ugly never felt so good. Well, not to some. I've never heard so much negative feedback following two wins for an organization devoid of them the past few years in my life. The Bears have simply done what they needed to do to grind out wins. Riding their hot defense to wins. Yet people are still screaming for heads to roll after wins. Not wise to start making long-term proclamations about Mitch Trubisky's development after 3 starts. This is a very raw rookie with the tools to eventually develop into a top-notch Quarterback but this is going to take time. Patience is not my greatest quality either, but I have to preach it in this case. Just by going through game week as a starter in the film room, practice field and then ultimately game day is giving him valuable experience and in turn development.
---
---
Quarterback: C
This is a pretty generous grade for a Quarterback who threw it 7 times but earned none the less. His restraint was the key to this grade. As a matter of fact, I'd have given him an even better grade if he didn't miss so many plays out there. There was one on a sack where he missed a wide open Zack Miller in the left flat.
#Bears
film – Zach Miller was open on sack that pushed Bears out of FG range. Appeared Trubisky was looking his way too.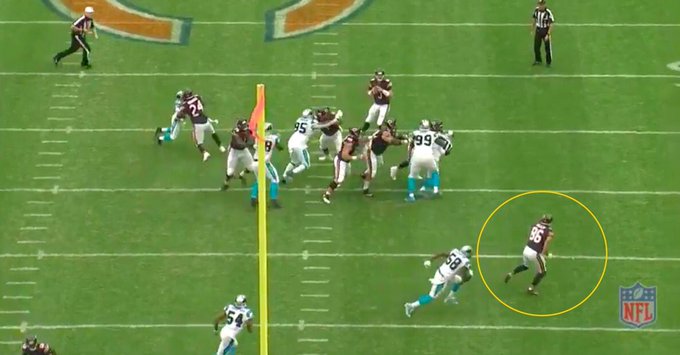 He took 3 other sacks that I thought he could have at the very least thrown away. He even walked into a sack as he panicked on an edge rush that was beautifully picked up by fullback Michael Burton which kept the pocket clean, but he stepped up and into a blocked lineman who just reached out with one arm and got him down for the sack. Trubisky also short-armed a pass that should have been a touchdown, but he did not want to overthrow him and left it short.

https://mobile.twitter.com/BaldyNFL/status/923239479153975297/video/1
Still, it was a big play to Tarik Cohen which led to a field goal. He was likely influenced by a couple passes he overthrew deep to Gentry the previous week versus the Ravens. Here's a quote where he basically admits he didn't let it completely fly as he threw it 45 yards in the air. We know he can throw it further than that.
 "We were working on that play this week. He had a nice double move in the corner and Dion took the safety out. As soon as that safety goes, and Tarik beats his corner, I just gave him a pass. If I could've led him a little more, he could've walked into the end zone. I just wanted to get it to him so he could do the rest. We just need to get better at the play action pass game and that will open up our run game which is what we want to continue to get better at."
---
---
Running Backs: C
Another generous grade here. Mainly because they had few snaps to get a lather going. There were big plays like Cohen's 70 yard catch and run, and Jordan Howard running out the clock at the end on a couple of chain-moving runs to eat up the clock. Blocking was solid too as both Burton and Howard picked up blitzers to keep Trubisky clean. The Offensive Line was more to blame for the lack of production than the Running Backs. Something I'll get to in a moment.
---
---
Wide Receivers: C-
This grade is the hardest one to make because there were so few dropbacks. They did block well and the one target they got Gentry did make a nice catch on. So take it for what it's worth here.
---
---
Tight Ends: C
Pretty much the same thing applies here as did with the Wide Receivers. However, I gave a better grade because Tight Ends are generally more prominent in the blocking game especially in pass protection and they did a great job. Even Adam Shaheen who is being brought along very slowly had a pancake block in this game. Miller did have a pretty nice 27-yard catch on a dime by Trubisky.
---
---
Offensive Line: D
This to me was the worst game this season for this group as they did not really open up any holes in the running game and did have 4 sacks credited against them although a good majority of it was because Trubisky didn't want to risk throwing a pick and consciously took the sack to retain the lead and let the defense finish what they started. Still, there was enough pressure to even put Trubisky in a position to have to make that choice. Josh Sitton had the worst game I have seen him play. A sign that his earlier leg injury may be lingering. Twice he got pushed back several yards by Bryan Cox jr. who gained leverage on Sitton. This group needs to do better as it's been a pretty mediocre start for them to the 2017 season.
This may surprise you though.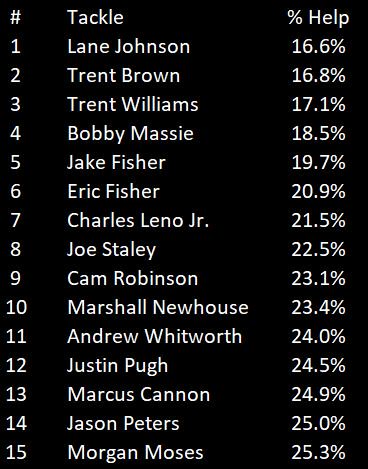 ---
---
Defensive Line: A
There's going to be a lot of A's on this side of the ball.  As a matter of fact, 3 of them made PFF's team of the week.
The defensive line put pressure on the Quarterback and stuffed the run.
 The Bears pressured Cam Newton on 23 of 43 dropbacks, as
@PFF_Chicago
noted. Vic Fangio often gave his rushers the green light.
Not sure you can do any better than that. Akiem Hicks has arrived as one of the best interior linemen in the game at the left end position in Vic Fangio's 30 front scheme. At the least one of if not the best 5 technique in the game. He's headed for All-Pro status. Eddie Goldman also has played at a high level as one of the best Nose Tackles the game has to offer and too may be getting All-Pro consideration himself. He's finally staying healthy and showing why the Bears are a different team with him in the middle of that line. Jonathan Bullard also had his arrival game this season and Mitch Unrein is as steady as it gets. Here Prince Amukamara explains how they played complementary football between the front 7 and backend.
"That's why he went away from Cover Two. You see a lot of DC's in the league just being stubborn, 'This is all I know or this is what I am staying with.' Not Vic."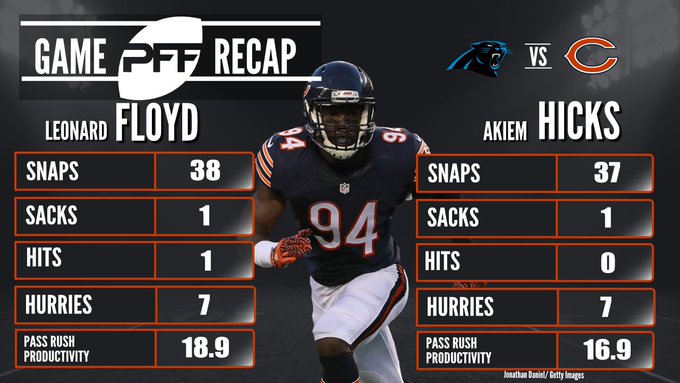 Here Adam Hoge mentions perhaps a forgotten play but a very very big one made by Eddie Goldman.
Next on the list of big plays might be nose tackle Eddie Goldman wrapping up quarterback Cam Newton on fourth-and-2 from the Bears' 25-yard line. It was midway through the third quarter and the Bears were leading 17-3.
LineBackers: A
It wasn't all on the line. The Linebackers factored into it too. They blitzed more than at any time in Fangio's tenure here as a Bear coordinator. Most of them coming from the linebackers. All Played well. Christian Jones was a beast in coverage and at the line of scrimmage stopping the run and pressuring the Quarterback. However, the real star of the linebacking corp was Danny Trevathan. He was all over the place padding an impressive stat line and may have won the Defensive player of the week award if not for his teammate winning it which I'll get to shortly. Sam Acho also contributed in situations as well. As a matter of fact they were so good they didn't even have to use freshly activated Linebacker Nick Kwiatkoski.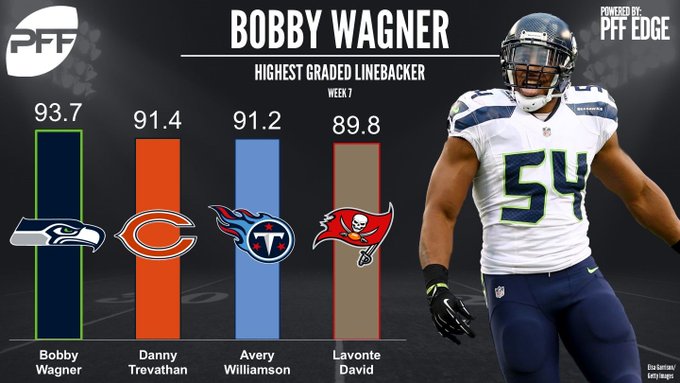 Here, PFF charted the pressures the Bears got and it was an impressive stat to be sure. Much of it due to a heavy blitz count.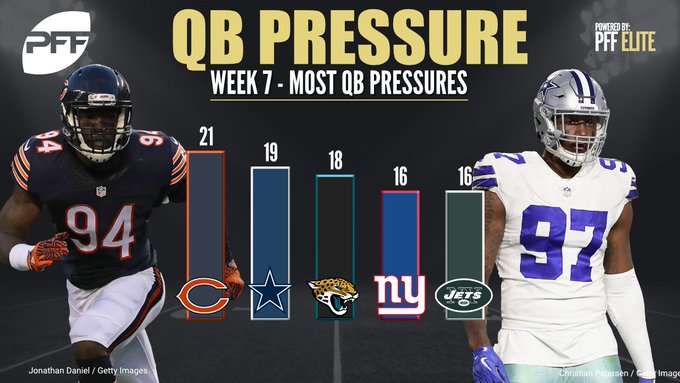 Eddie Jackson scored two long record-breaking Touchdowns a year to the day after breaking his leg while at Alabama last year. Adrian Amos Played solidly as well just as he's done all year actually being ranked by PFF as the third best safety in football. Definitely taking advantage of his chance made possible by Quintin Demps devastating injury. This was a guy who many including myself thought he should be cut. They've been one of the best Safety duos in the league thus far in the 2017 season.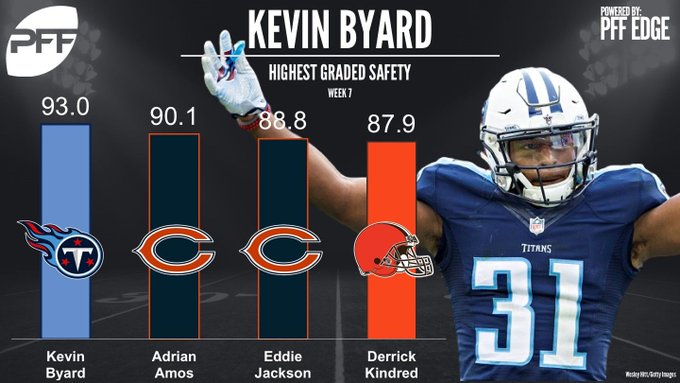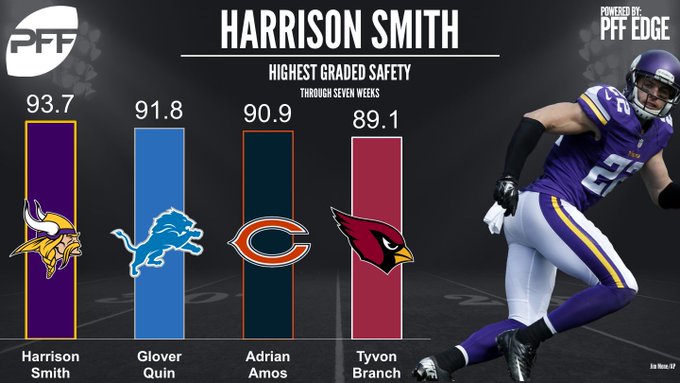 Eddie Jackson was rewarded for his performance today by the NFL. Well Deserved. Looks like the Bears have themselves a young exciting Safety duo for years to come. Something Bears fans have been clamoring for since Fensik and Duerson.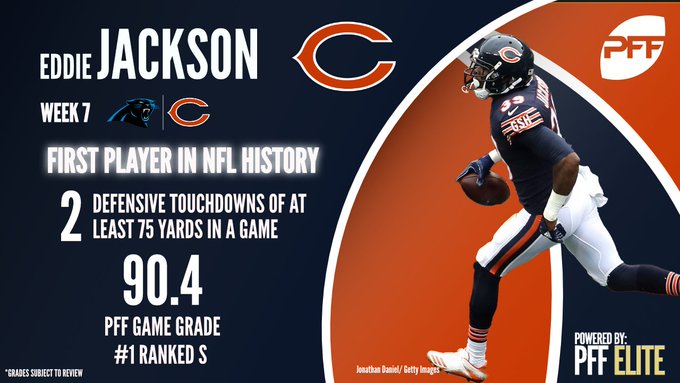 During the offseason and at the start of the 2017 season the Bears secondary took all kinds of pot shots from fans and media alike. Well, what a difference a year makes. It's hard to argue any secondary is playing better in the league thus far. The cornerback position was addressed in the offseason by Bears general manager Ryan Pace with the Acquisition of Marcus Cooper and Prince Amukamara. Both have been good signings, but the real score is the development of Kyle Fuller who has been physical in press man and at the line of scrimmage in run support. He has made himself a lot of money in a walk year. Bears would do well to re-sign him. Bryce Callahan has also factored in as one of the better slot corners in the NFL as well.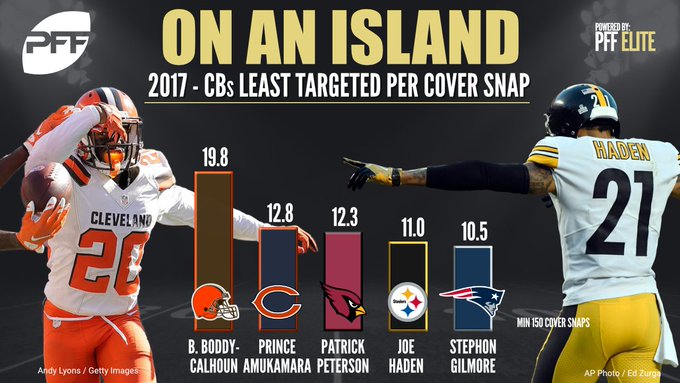 This grade is pretty much carried by the defensive coaching but also worked complimentary football with the offense to not blow it. At no time were the Bears even remotely close to losing the lead to the Panthers so there was no risk/reward scenario to contemplate here. Throwing the ball would have been all risk. So the restraint on the offense is a positive here. Most Coordinators have too much ego to do less when necessary. Dowell Loggains clearly has no self-agenda and is all about the team. Probably some Fox influence here as well. Special teams were solid. Especially on the coverage side. However, as mentioned at the beginning of this assessment defense was the real star here and Fangio showed some real growth in abandoning his usual conservative approach going all coverage, and blitzed over 43 percent of the snaps. Bears Secondary coach Ed Donatell jr. also has his fingerprints on this teams progression on the defensive side of the ball this season and in this game. Check out this quote by Bears Cornerback Prince Amukamara.
"The crazy thing with Vic … it's hard to explain," Amukamara said. "He has to be just one of the top DC's just because of how he calls things. He watches so much film and as a player I am starting to get into a rhythm (for what might be coming). And he's teaching me because I can get in a rhythm, 'OK, he's going to call this because of this. OK, we know Cover Two isn't working.' They were converting first downs, long ones. So it's, 'You know what, our DB's are playing good. Let's play tight coverage and let's not give (Cam Newton) so much time back there.'
Panthers head coach Ron Rivera also confirmed the team's defensive dominance and how well it's emphasized by the coaches.
"I wanted points," Rivera said. "I didn't want a field goal. I wanted a touchdown. In a game like this against a team like that, if you don't score when you have that opportunity when you get down there, you might not get back down there. They played very good defense. It's kind of a hallmark of what they believe in. It's the tradition around here."
---
---
Conclusion: If they keep this up they may actually give us a fun season to watch. Especially if they get the passing game going.