Predictably, this is and always was going to be the central theme of this season once the Bears traded up one spot giving up three picks and getting one back for the rights to draft Bears newest golden boy, and hopeful franchise savior, Quarterback Mitch Trubisky. When will he be inserted as the Bears starting Quarterback? Just as predictably is the theme that Trubisky is the least ready to play of all the top Quarterback prospects in this past draft class given his small sample size of starts at North Carolina, and not running a pro style offense. The Bears appear to be buying into that theme as they are giving Mike Glennon the reigns to start the season and also appear set to elevate Mark Sanchez as the primary backup. Why else would they retain Sanchez on their 53 man roster after going with two Quarterbacks on their 53 man roster the past two seasons prior to this one?
Many people seem to be targeting Head coach John Fox as the primary reason for this, but this has the look of being more on Bears general manager Ryan Pace. It's pretty clear to even the most novice of fans that Trubisky is the most talented Quarterback on the roster. It certainly stands to reason that an NFL lifer in his 60's knows what the better player looks like. In spite of what negative and biased opinions people have on Fox. With that being the case and with the fact NFL Head Coaches look at the present over a future they may not be a part of it stands to reason that Pace had the biggest influence on this decision.
Another injustice that may be done to Trubisky is if the Bears announce he'll be the third string Quarterback and be inactive for game day. While scout team reps can be beneficial it does not replace second string reps you get as the primary backup. There is talk of the Bears splitting the second string reps and also having Trubisky run scout team reps which would be better, but some believe (myself included) elevating him to second string would be far more beneficial for his development. One would like to trust this regime knows what it's doing with Trubisky's development, but it's fair to see proof of this before believing it.
---
ACCURACY:
Another consideration for Fox and Pace in their decision of when to green light the Trubisky era is the importance of accurate passes with this specific scheme. The one thing that actually stuck around from the Mike Martz days is the emphasis on anticipation throws. That's the ability to throw the ball to a spot that you anticipate a receiver will be before they are there. This requires a Quarterback to have the proper timing and accuracy to throw the ball before their receiver breaks out of their routes and turn to look for the ball and than put that ball exactly where it needs to be when it needs to be there. In essence throwing them open. This influence is passed down to Loggains via Adam Gase who is a Mike Martz disciple. The frequency of depth to these routes may vary as the Bears want a more quick trigger passing attack and thus shorten Quarterback drops and receiver's routes.
It's very clear that Trubisky already has the advantage over Glennon in regards to this type of passing. This tells me that with Trubisky as the Quarterback they should have a higher percentage of completions than with Glennon under center. How long they choose to ignore this fact I suppose would depend on how successful they are with the other phases of their team like Defense, Special Teams, and running the ball and how that translates to wins and losses.
Another factor in the importance of accuracy aside from the obvious is it helps this young inexperienced Wide Receiver group who many believe to be among the worst in the NFL. It helps alleviate the lack of separation issues they may have by putting the ball where it needs to be. It also helps their cause in getting explosive play yards (15 or more yards on a play) by hitting them in stride. Something Trubisky showed the ability to be able to do in the preseason and Glennon struggled with in the preseason.
(Look at the ball placement on this go route. Not only put's it on his hands, but hit's Tanner Gentry without breaking his stride)



Should the Bears start Mitch Trubisky out of the gate? (via @nfl)
---
ABILITY TO READ THROUGH PROGRESSIONS:
As you can see from the GIF above Trubisky read the entire field each progression at a time before he took off for the first down. Unlike some of the one read systems in college football today Trubiksy was asked to go through his full field progressions. This is something that separates him from the other Quarterbacks in this draft. Of the top guys taken only DeShawn Kizer and Nathan Peterman had full field reads. Peterman came out of a pro style system and Kizer had pro style concepts in Notre Dame's spread attack. Couple that with the mobility and accuracy and a very strong arm he was far and away this season's best long term prospect at the Quarterback position.
---
MOBILITY:
Mitch Trubisky Ballin

When evaluating Trubisky against Glennon or even Mark Sanchez for that matter it's blatantly evident that he can make more plays simply based on his mobility and athleticism. Whether it be running for a first down on a scramble off a broken play or a planned Quarterback sneak or even on a misdirection naked boot (as in the video above) he expands the playbook by being able to run plays the other Quarterbacks are simply not capable of physically executing. Than there is the improvisational aspect to his game by being able to escape pressure while looking downfield for a throw or just simply taking off for a big run. This may also speed up his clock as far as getting in there as the starter. If the Bears struggle offensively due to poor play and the inability to be able to adjust to the way defenses play them simply by having handcuffs on with your play calling it could permanently summon Trubisky off the bench and in as the starter.
With preseason in the books, a look at how all the rookie quarterbacks from the 2017 draft have performed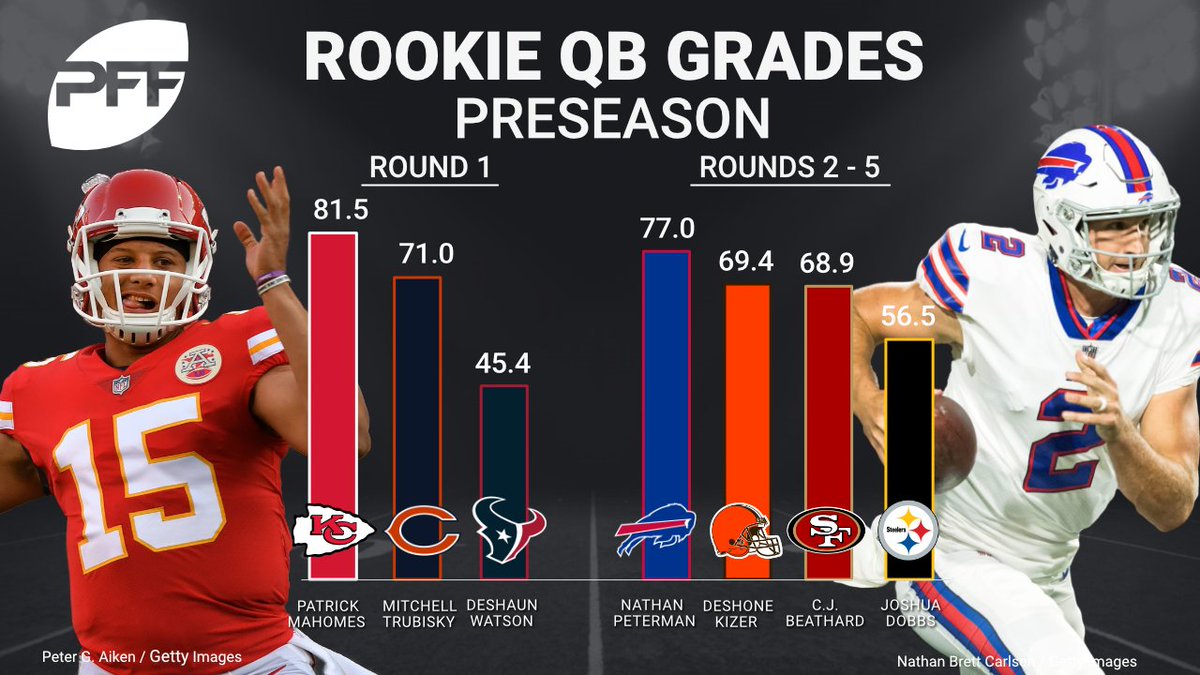 ---
SITUATIONALLY SMART:
Sure as a rookie you can expect growing pains and the occasional mistake like the throw in the above video where he simply did not see the Line Backer in coverage underneath and fortunately for him it was dropped and should have been picked. However, that is no reason to not play the kid. Just as he will make some mistakes he will also make plays the other guys can't. He also appears to have the right temperament and won't let bad plays bother him long. Looks like he can put bad plays behind him and remain focused and confident rather than going into the tank. It's one of the reasons I think the "You might ruin him if he fails" guys out there are full of rubbish. Seems like the kid is very resilient. I see him easily being able to play through adversity. The thing I took away from most in Trubisky's preseason performance is his ability to process and make quick decisions. The game does not seem beyond him. His poise is almost equally as impressive. There does not seem to be an ounce of panic in his game. Of course everything ratchets up the deeper you get into the season especially if you are indeed in the playoff hunt, but the game does not look to be too big for him. He also knows when to slide on his QB scrambles so he avoids the big hit and thus staying on the field and off the disabled list.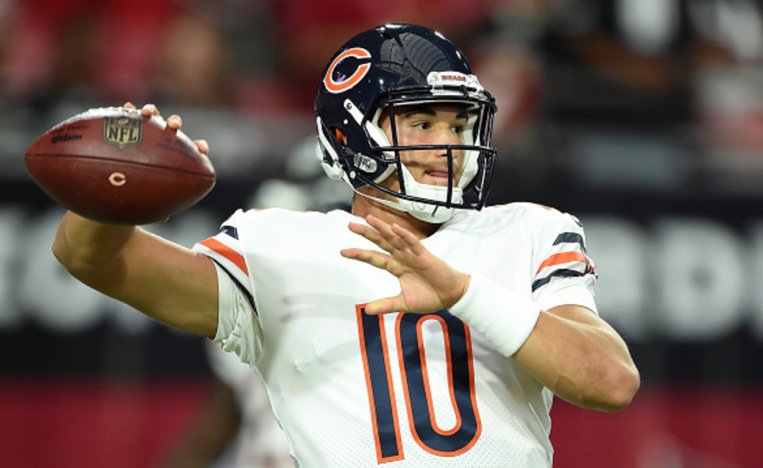 The physical gifts Trubisky showed in preseason were impressive but it was also a known commodity. What really perked up everyone's attention was how well he commanded the offense. Reading through progressions, showing good footwork and mechanics, accuracy, handling snaps under center and executing play action, poise in the pocket, making sound decisions, and commanding the huddle. All things that instantly gave Bears fans confidence in the young mans future and hoping for it to be the present. It also made the media take notice and perhaps changing their tunes as to his readiness to play sooner rather than later. As I wrap this piece up and tie a bow on it I leave you with this video of 5 great plays from Trubisky's past preseason performance.
Good morning! Let's enjoy Mitch Trubisky's top-5 preseason plays via @NFL.
Top 5 Mitchell Trubisky Plays of the Preseason
NFL